Download this beautiful spring poetry collection just in time for National Poetry Month in April. Enjoy these during your poetry teatime, use a few for memory work, make them part of your daily copywork, or add them to your morning time rotation.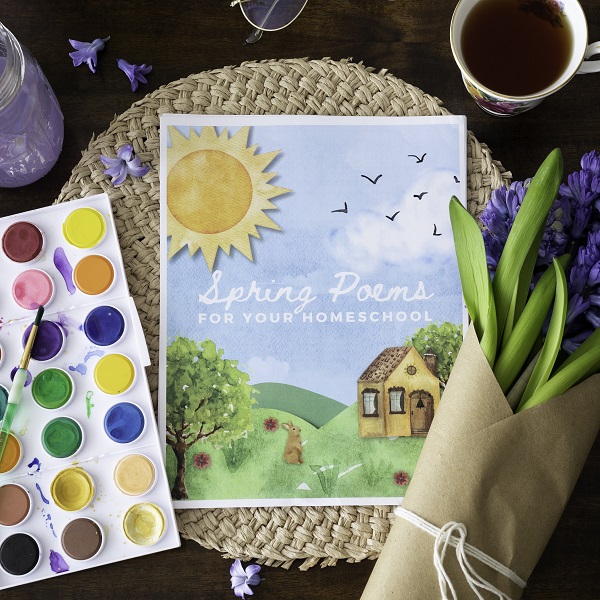 In this printable you will find:
Rain Music by Joseph S. Cotter, Jr.
I Wandered Lonely As a Cloud by William Wordsworth
Afternoon on a Hill by Edna St. Vincent Millay
The Swing by Robert Louis Stevenson
Spring in War-Time by Sara Teasdale
Baby Seed Song by Edith Nesbit
Rondeau by Jessie Redmon Fauset
Daffodowndilly by A. A. Milne
My Shadow by Robert Louis Stevenson
Spring in New Hampshire by Claude McKay
An Adieu by Florence Earle Coates
April by Emily Dickinson
What the Thrush Said by John Keats
Song on May Morning by John Milton
To the First Robin by Louisa May Alcott
The First Spring Day by Christina Rosetti
April Showers by Mary Eleanor Wilkins Freeman
Calling the Violet by Lucy Larcom
Spring by William Blake
Spring by Gerard Manley Hopkins
All Things Bright and Beautiful by Cecil Frances Alexander
Lines Written in Early Spring by William Wordsworth
If you share a photo of your spring poetry learning on Instagram be sure to tag us @homeschoolcompass or use the hashtag #homeschoolcompass We love seeing how you and your family use these printables!
Here are some more spring homeschool ideas you might enjoy: