Today we are delighted to welcome Leah Boden to the Homeschool Compass blog to share an excerpt from her upcoming book, Modern Miss Mason: Discover How Charlotte Mason's Revolutionary Ideas on Home Education Can Change How You and Your Children Learn and Grow Together. Leah is a mother of four, home educator, and longtime student of Charlotte Mason. She makes her home in the West Midlands, England, where she speaks, hosts podcasts and coaching sessions, and runs workshops sharing the beauty of a Charlotte Mason approach to childhood, motherhood, and education.
I first realised I was likely nearsighted whilst working late in the college library trying to finish a university assignment. I had been staring down at my handwriting moving its way across the page for so much time that when I glanced up at the library clock to check the time, everything went blurred and out of focus. Looking at something close in front of us for a long time, whether physical or emotional, can leave us tunnel-visioned, blurry-eyed, and unable to adjust to the wide view.
If we are honest, we can sometimes be shortsighted about our own children. We may focus so much on the daily tasks—completing the math worksheet, learning to tell nouns from verbs—that we fail to see the bigger picture of who our children are and where their interests are leading them. But we need to pay attention to our children before they will pay attention to us.
I remember coaching a young mother who had three lively sons, all under the age of six. One of her questions was "How do I even start to help them with the habit of attention when they're on the move all the time?" We all know children love being on the move; being active and lively is part of childhood. Some personalities just need more movement than others! You have to remember that we are working with our children and not against them. Social media advice and blog inspiration, albeit well meaning, is often generalised, sometimes idealistic, and rarely bespoke. At the end of the day, you know your children best, and you are the best mother for them.
Whenever I am coaching a mother in the Charlotte Mason methodology, I often start by recommending a period of observation to jot a few notes down about each child. This may sound over the top as you're with them all day every day, but it's helpful to reflect on what makes them a unique individual—for example, what topics draw their attention, who they admire, what their personality is like, what you suspect their preferred learning style is, and what they love to do. All children pay attention to something, but it's usually led by desire, curiosity, or entertainment value. Mastering their motivation is key. Our role as educators is to divert them into something new rather than just distract them from something old.
Once you've spent time observing and taking notes for each child (this might be over a period of a few weeks), you will have a baseline understanding of your child—both their strengths and weaknesses. You can draw out who they already are and redirect where necessary to strengthen them in important life skills. Mothers report to me that when they help their children strengthen the habit of attention, the children can stay with new ideas for longer and make better use of the knowledge or experience they have encountered.
Remember you are the first person that your child will likely fix their attention on. The power of the parent or prominent adult in a child's life is paramount to their development. They are constantly observing your habitual expressions of kindness and loving investment of time. If we're anxiously trying to habit train our children and it results in irritability, impatience, and a busy mind, then we miss the opportunity to build true, rich, and lasting relationships with our children. The challenge with home education is that the lines between being the parent and the educator are often blurred; when asked to choose between the two, I always say be a mother first. What if the loving expression of your motherhood is the greatest lesson your child can ever learn from you?
At the end of the day our children will pay attention to what we observe ourselves. They will respond to how we fix our gaze and how we are amazed by nature, by story, and by sound. This beautiful and generous habit develops with the child: as they look, they will be rewarded; as they listen, they will grow. And it doesn't stop when they are no longer young. As a mother of an adult and teenagers, I'm learning that their late-night desire to unload or just reflect is as important as listening to my toddler's midday chatter. Our listening ear endorses their voice and what they've paid attention to that day. We applaud them for having an opinion, provide a place to speak out, and give them a chance to leave the worries of the day behind. I keep my attention on them so that they keep their attention on what matters.
Suggestions for Capturing Attention
It starts with you—pause on one thing, wherever possible.
Pause and pay attention to your senses when outdoors. What can you see, smell, touch, hear (and taste where it's safe to do so) from where you're standing? Encourage your children to do the same.
Ask open-ended, interesting questions about a beautiful art scene, a story, or a natural situation, such as, "Where do you think that road leads?" or "What would you have done in that situation?"
Listen to music intentionally; be alert for instruments, phrases, or themes that you can share with children.
Read poetry out loud with a pre-explained listening mission. Listen for a favourite word, phrase, or sentence. Encourage children to picture the words in their mind.
When a child is tempted to give up on a book, game, or task quite quickly, say "just one more minute" and set a timer. Stretch it to two minutes next time.
If your child is struggling to recollect, hold attention, and/or narrate when reading, read shorter passages.
When visiting an art gallery or museum, encourage children to find one brilliant piece or picture to tell you about at the end. Don't expect them to pay attention to the whole exhibit. If they seem to be getting bored, ask, "Have you found your 'one' yet?"
Pick a daily outdoor observation rhythm and have an allocated notebook to write down what you see. This could be cloud shapes, leaf colours, temperature, weather, etc. Focus on one for six weeks or so; do this daily and enjoy the progression.
Encourage your children's questions; they reflect engagement and attention. Write them down, even if you can't answer straight away—foster questions about people, books, art, politics, theology, etc. Don't be afraid of them, don't dismiss them; embrace your children's curiosity!
Put your phone down.
To hear more Charlotte Mason encouragement and practical help from Leah, grab your copy of Modern Miss Mason today!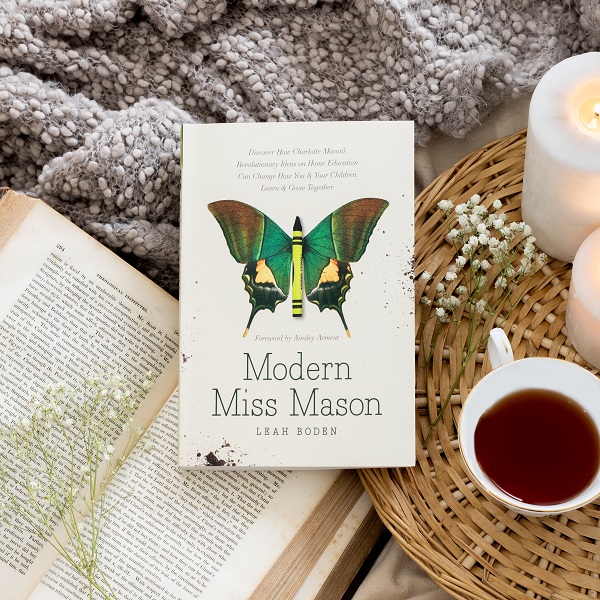 Adapted from Modern Miss Mason: Discover How Charlotte Mason's Revolutionary Ideas on Home Education Can Change How You and Your Children Learn and Grow Together by Leah Boden. Copyright © 2023. Used by permission of Tyndale House Publishers, a Division of Tyndale House Ministries. All rights reserved.