This post contains affiliate links. Thank you for supporting the Homeschool Compass by shopping through our page!
Reading aloud is a great way to introduce your children to the cultures and customs of the world around them. That's why we've put together this list of our favorite books featuring stories of children from every part of the globe. Browse the entire list, or select a country from the list below to see books specific to that area.
Countries marked with an asterisk (*) are featured in our free 25 Countries in 25 Days Printable Activity Book. Be sure to download your copy here for lots of great facts, flashcards, and learning activities.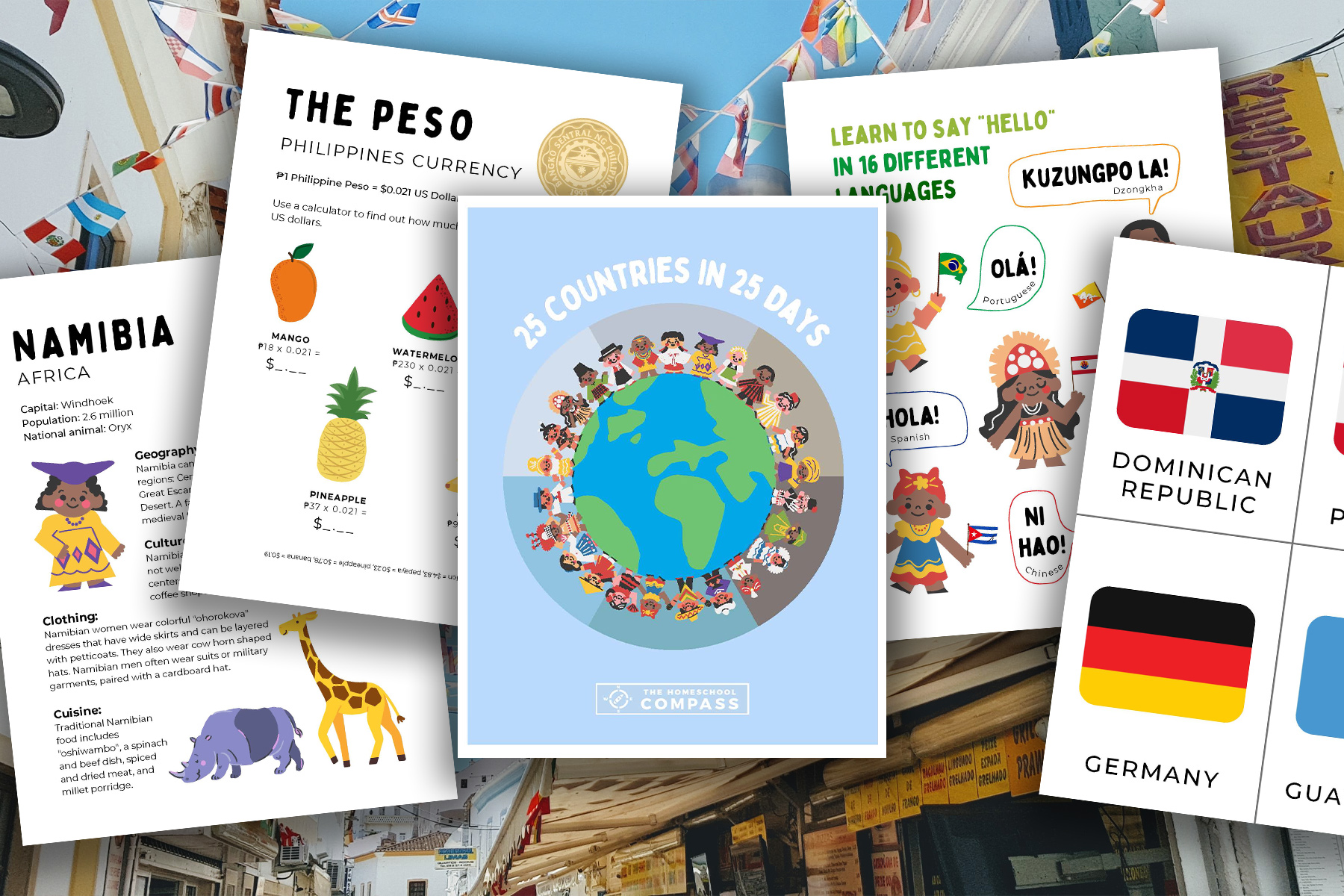 Books that Feature Many Countries
An Italian boy sips from a fountain in the town square. A hiker takes a refreshing drink from a mountain stream. Black-robed women in India stride gracefully through a field with brass water jugs balanced on their heads. No matter how they get it, people all around the world are unified by their common need for water. This book combines striking National Geographic photographs with poetic text to show how people in various cultures use and conserve the world's most vital resource.
Journey with a little girl as she travels around the world getting ingredients for her apple pie. You'll gather some wheat in Italy, find some eggs in France, cinnamon from Sri Lanka, and more!
This fun and informational book compares mealtimes in 13 different countries around the world including Sweden, Peru, China, Pakistan, Nigeria, and Iceland.
Life Like Mine by DK Children (ages 6 to 10)
Created in partnership with UNICEF, this book profiles children from all over the globe leading their lives in different and fascinating ways. The challenges of nations both developed and developing are revealed in the stories and photographs of this special book.
Afghanistan
Extra Credit by Andrew Clements (ages 8 to 12)
Sixth grader Abby Carson needs to take on an extra credit project to save her failing grade. The assignment: find a pen pal in a foreign country. Her first letter arrives at a small school in Afghanistan, and Sadeed Bayat is chosen to be her pen pal. As letters flow back and forth between Illinois and Afghanistan, Abby and Sadeed discover that their letters are crossing more than an ocean. They are crossing a huge cultural divide and a minefield of different lifestyles and traditions. Will their friendship be able to bridge this divide?

Inspired by a refugee girl who asked the author why there were no books about children like her, this book tells the story of ten-year-old Lina who lives in a refugee camp. Its warm colors and sensitive brush strokes, this book portrays the strength, courage, and hope of refugees around the world, whose daily existence is marked by uncertainty and fear.
Shooting Kabul by N. H. Senzar (ages 8 to 12)
In the summer of 2001, twelve year old Fadi's parents make the difficult decision to leave Afghanistan and move the family to the United States. When Fadi's younger sister is tragically left behind in war-torn Afghanistan, Fadi enters a photography contest for a chance to return to Afghanistan and find his sister. But can one photo really bring Miriam home? This is a powerful story of hope, love, and perseverance.
Antarctica
Part of the award-winning Where Is? Series, this approachable book introduces readers to the earth's southernmost continent, which was virtually untouched by humans until the nineteenth century. You'll learn about the famous explorers who journeyed (and often died) in Antarctica and some of the 200 species that call Antarctica home.
Follow a devoted Emperor penguin dad as he stands around in the freezing cold with an egg on his feet for two whole months, keeping it warm and waiting for it to hatch. While his mate is off swimming and catching loads of fish, the male patiently braves the chilling temps of an Antartica winter without leaving his post. Your children will enjoy this lively text with endearing illustrations.
Mr. Popper's Penguins by Richard and Florence Atwater (ages 5 to 12)
A 1939 Newbery Honor Book, this story of a gentle house painter who spends his winter months dreaming of the Antarctic has delighted children for generations. When he receives a penguin in the mail as a present, makes it a nest in the refrigerator, and finds it a mate at the zoo, hilarious hijinks ensue for Mr. Popper.
Tacky the Penguin marches to the beat of his own drummer, which sometimes ruffles the feathers of his proper penguin friends. But when three hunters threaten to end the penguins' peaceful existence, it's Tacky and his non-conforming ways that save the day. This rollicking tale will have your kids in stiches, while also showing the value of being true to yourself.
Australia
Together Australia and the many small islands of Oceania make up Earth's smallest continent. This colorful non-fiction title dives into the geography, history, and wildlife of this fascinating part of the world.
This cuddly-looking wombat lives to eat, sleep, and dig holes. As he chronicles a week in his very busy life, you'll read how he trains his new neighbors, a family of humans, to produce treats on demand. Cute and funny with charming illustrations, your children will fall in love with this adorable wombat.
In this inspiring biography your children will learn about young Australian John Flynn
(1880-1951), who discovered that his mission field was inside his own country, the vast and dangerous outback, where life-and-death struggles were a constant reality. Serving as superintendent of the Australian Inland Mission, Flynn established desperately needed medical facilities and helped found the Flying Doctor Service. Part of the Christian Heroes Then & Now Series, this book is a great way to introduce your older readers to the landscape and history of Australia.
Koala Lou by Mem Fox (ages 2 to 6)
Koala Lou's mother always tells her that she loves her. But over time as more and more younger siblings join the family, it seems that her mother is so busy she doesn't have any time for Koala Lou. Koala Lou decides to enter the Bush Olympics, hoping she can win back her mother's attention by finishing first in an event. But Koala Lou learns that she doesn't need to earn her mother's affection; she's had it along along. This is a heart-warming story from beloved Australian children's book author, Mem Fox.
Kangaroos, tree kangaroos, koalas, Tasmanian devils, wombats, opossums, and sugar gliders are all amazing animals! What else do these animals all have in common? They are marsupials! This Let's-Read-and-Find-Out Science book is perfect for introducing your children to the fascinating world of marsupials, many of whom make their home in Australia.
Bangladesh
Rickshaw Girl by Mitali Perkins (ages 7 to 10)
Naima is a talented painter of traditional alpana patterns, which Bangladeshi women and girls paint on their houses for special celebrations. But Naima is not satisfied just painting alpana. She wants to help earn money for her family, like her best friend, Saleem, does for his family. When Naima's rash effort to help puts her family deeper in debt, she draws on her resourceful nature and her talents to bravely save the day. This book includes a glossary of Bangla words and an author's note about a changing Bangladesh and microfinance.
Benin
Kidnapped at the age of 11 from his home in Benin, Africa, Olaudah Equiano spent the next 11 years as a slave in England, the U.S., and the West Indies until he was able to buy his freedom. His autobiography, published in 1789, was a bestseller in its own time. Cameron has modernized and shortened it the original while preserving the spirit of the original in a gripping story of adventure, betrayal, cruelty, and courage.
Brazil*
Journey deep into the rainforest of Brazil with this stunning picture book. You will learn about the interconnectedness of all living things and discover some of the fascinating animals that make Brazil their home.
Colorful illustrations and simple biographical text give a window into what it was like to grow up in Brazil for the young boy who became an international soccer star.
Canada
Hatchet by Gary Paulsen (ages 10 to 14)
This classic adventure story takes place in the wilds of Canada where thirteen-year-old Brian lives through a plane crash and must survive alone with only his hatchet. The story of how Brian makes it on his own for 54 days, finding food, getting water, protecting himself against wild animals, and building a shelter will keep your young readers spellbound.
Each spring, 18,000 red-sided garter snakes emerge from underground dens in Manitoba, Canada. Volunteers and students gather them up, and the snakes then participate in a day's behavioral experiments directed by zoologist Bob Mason. Part of the Scientists in the Field series, this book is a fascinating introduction to the world of experimental science.
China*
Mei Mei loves her six hens. She gives them treats and fresh hay baths, and when she calls to them-gu gu gu gu gu!-they all run to her as fast as they can. But one of the hens, Daisy, is not always so happy. The other hens pick on Daisy and push her off the perch every night, knowing that she is too small to stand up to them. Then one day Daisy accidentally drifts out onto the river in a basket and must quickly learn how to survive. When Daisy finds her way home, this plucky little hen is no longer afraid
When Minli decides to use one of her two gold coins to buy a goldfish, her mother is not happy–they barely have enough rice to feed themselves, and even the few grains required by the fish are a sacrifice. Minli decides to let the fish go, but before the fish leaves, he tells her how to find the Old Man of the Moon who figures into so many of the stories she hears from her father. She leaves to begin her quest, meeting many new friends and hearing many new stories along the way, as she tries to learn how to change her family's fortune.
Costa Rica*
This book will introduce your children to the delightful residents of the Avarios Sloth Sanctuary in Costa Rica, the world's largest sloth orphanage. You'll fall in love with bad-boy Mateo, adorable baby Biscuit, and champion cuddle buddy Ubu!
The Umbrella by Jan Brett (ages 4 to 8)
In this book master author and illustrator Jan Brett leads us on a wonderfully lush journey through the Costa Rican cloud forest. When Carlos drops his umbrella to climb a tree for a better view of the animals, they all cram into the banana-leaf umbrella as it floats by – from the little tree frog to the baby tapir to the big jaguar and more. It gets so crowded in the umbrella that there isn't even enough room for a little hummingbird! So over the umbrella tumbles, everyone falls out, and poor Carlos comes back wondering why he didn't see any animals all day.
Cuba*
This retelling of a traditional cumulative Cuban folktale is presented in both Spanish and English. It follows the adventures of a pushy rooster who learns a lesson about being conceited. Your children will love the whimsical text and vivid watercolor illustrations.
Denmark
It's 1943 in Denmark, when ten-year-old Annemarie Johansen's family takes in her best friend Ellen and poses her as a member of the family. Ellen is Jewish, and Jewish people all over Europe are being taken by the Nazis and put into ghettos and concentration camps. This Newbery Medal winner chronicles the hardships this family must face and the heroic decisions that they are forced to make.
Egypt
The Golden Goblet by Eloise Jarvis McGraw (ages 10 to 14)
This 1962 Newbury Honor book tells the story of a boy named Ranofer who lives in fear of his half-brother Gebu. Gebu beats him and forces him to work as a porter, the lowest rank in the goldsmith, even though Ranofer has skill in goldsmithing that he learned from his father. When Ranofer finds a rare golden goblet in Gebu's room, he is determined to right Gebu's wrongs and change his own life for the better.
This book covers all the great myths of Ancient Egypt from Amen-Ra, who created all the creatures in the world; to Isis seaching the waters for her dead husband Osiris; to the Bennu Bird and the Book of Thoth.
Perfect for newly independent readers, this Who What? Series book gives an engaging introduction to the world of King Tut and what his life might have been like. Explore what CAT scans show us about how Tut died, how we learned to translate hieroglyphs, and what archaeologists have learned about King Tut from the artifacts around his tomb.
England
Nobody knows exactly when or why William Shakespeare left his boyhood home of Stratford-on-Avon for the great city of London, but it didn't take long for him to make a name for himself. His plays are now performed almost every day in just about every part of the world; even people who've never seen them use words and phrases he introduced into the English language. This award-winning nonfiction text tells what we know of Shakespeare's life and times in truly dramatic fashion.
An impressive portrait of the remarkable queen who loved her people so dearly and ruled them so well, Elizabeth's forceful personality, colorful court, and devoted subjects come vividly to life in this stellar picture-book biography. This book is a wonderful way to introduce your children to the Elizabethan Age.
Set in the rolling dales of Yorkshire, England, these charming tales of Moses the Kitten, Smudge the Little Lost Lamb, and many more are wonderful addition to any child's library.
The Secret Garden by Frances Hodgson Burnett (ages 8 to 12)
There are many beloved children's chapter books set in England (the Chronicles of Narnia, The Railway Children, and A Bear Called Paddington to name a few), but none does a better job displaying the landscape and culture of the country than The Secret Garden.
France
The Butterfly by Patricia Polacco (ages 4 to 8)
The Nazis have occupied Monique's small French village, and nothing is as it should be, Then, one night, Monique encounters "the little ghost" sitting at the end of her bed. She turns out to be–not a ghost at all–but a young Jewish girl named Sevrine, who has been hiding from the Nazis in Monique's own basement. Both heart-wrenching and touching, Patricia Polacco once again dips into her own family's history to reveal this passionate and true tale of friendship from the French Resistance.
Germany*
Becoming Bach by Tom Leonard (ages 4 to 8)
Johann Sebastian's family had been musicians, or bachs as they were called in Germany, for 200 years. Music was part of his life from the very beginning. As he grew, he saw patterns in everything, patterns he would turn into melody and song. This richly illustrated picture book is a beautiful way to introduce children to one of Germany's most famous composers.
This fascinating true story describes the years immediately after World War II ended when there were no sweets in Russian-blockaded Berlin – no chocolate, no candy, no gum. Lt. Gail S. Halvorsen was a pilot who flew in emergency supplies to feed the two million Berlin citizens. One day, he met a bunch of children and told them he'd drop candy and chewing gum. The signal would be the wiggling wings of his plane. Your children will love this moving true story.
Born into a loving German family, Dietrich Bonhoeffer pursued a life as a pastor, teacher, and theologian. When Adolph Hitler came to power, Bonhoeffer turned into a spy and spoke out, urging the Christian church to rescue disparaged peoples and resist Hitler's evil empire. This book is part of the Christian Heroes Then and Now series which chronicles true stories of ordinary men and women whose trust in God accomplished extraordinary deeds for his kingdom and glory.
India
Marcia Williams brings the folktales of ancient India to life in this inviting comic-book style collection of eight animal stories. Lively illustrations and enchanting text infuse these tales with humor and warmth.
The Jungle Book by Rudyard Kipling (ages 8 to 12)
Join Mowgli in the jungles of India as he escapes the vicious jaws of the growling tiger Shere Khan. When he is adopted by Father Wolf and befriended by lovable Baloo the Bear and Bagheera the Panther, Mowgli's extraordinary adventures begin.
The Jakatas are Indian fables in which the Buddha appears in various animal guises. In this retelling, he is a clever little monkey who twice foils the attempts of the crocodile to capture him.
Mexico*
Hill of Fire by Thomas P. Lewis (ages 6 to 9)
Every day is the same for Pablo's father until one afternoon the ground growls, hisses smoke, and swallows up his plow. A volcano is erupting in the middle of his cornfield! This exciting I Can Read! book is perfect for early readers.
In Mexico, the poinsettia is called flor de la Nochebuenao, flower of the Holy Night. This Mexican legend tells how the poinsettia came to be through a little girl's unselfish gift to the Christ Child. Tomie de Paola's glorious paintings capture the brilliant colors of Mexico and its art.
Nigeria*
In this book you'll meet a young chess champion who learned to play in a homeless shelter! In their escape from Boko Haram's reign of terror in Nigeria, his family's journey to the United States was nothing short of a miracle. Then 8-year-old Tani started competing with his public school in the ultra-exclusive chess clubs of New York City – and winning! Also available in a Young Reader's Edition.
Philippines*
In this sweet story children will follow along with a Filipino-American boy visiting the Philippines for the first time. Each watercolor illustration is labeled with English words and their Filipino translations and shows readers both the similarities and differences between Western and Philippine lifestyles. You'll learn about Filipino festivals and celebrations, traditional dress, meals, songs, games, and more!
Authored by the team at Compassion International, this book will help your children step out of the me-first world we live in and immerse themselves in the everyday life of kids living in poverty in the Philippines. Vibrant illustrations, crafts, recipes, prayers, and devotions will help your children build kinship with families across the ocean.
Spain*
Ferdinand the bull lives in the Spanish countryside. Unlike the other young bulls who love to fight and butt heads, Ferdinand prefers to laze under his favorite tree with the sweet-smelling flowers. One day five men in funny hats come to pick the largest, roughest bull to fight in the bull fights in Madrid. Against all odds, they choose Ferdinand, but what will happen when gentle Ferdinand enters the ring?
Switzerland*
Walter is the twelve-year-old son of William Tell, the greatest bowman in the land of Uri. He lives happily in the remote heights of the Alpine Mountains, caring for his family's goat herd and practicing his markmanship in the hopes of making his father proud. But Walter's peaceful life is shaken as his country enters a revolution, and Walter must carry a secret that could threaten the life of the father he loves so dearly. Winner of the 1952 Newbery Honor Medal, this is the story of a boy's faith in his father, his bravery in the face of danger, and his part in the fight for Switzerland's freedom.
Heidi by Johanna Spyri (ages 6 to 12)
Set against the backdrop of the beautiful Swiss Alps, this classic novel tells the story of an orphan girl who is sent to live high in the mountains with her curmudgeonly grandfather. As Heidi grows up amidst the wildflowers and milk goats, she learns the true meaning of friendship and family. This one is a must-read!
This hilarious and endearing novel by Newbery Medal winner Sharon Creech reminds us that it's the little things that make life big. In a tiny village high in the Alps, one angel lives in a tower, all by itself, unsure of what it's job is meant to be. One day a determined American girl named Zola moves into the angel's tower, and the two are about to collide.
Vietnam*
Inspired by the author's childhood experience as a refugee fleeing Vietnam after the Fall of Saigon and immigrating to Alabama, this coming-of-age novel tells the story of Ha, who has only ever known Saigon: the thrills of its markets, the joy of its traditions, and the warmth of her friends close by. But now the Vietnam War has reached her home, and Ha and her family are forced to flee. This touching view of immigration from a child's perspective captures the grief and the dreams of leaving home behind in search of a better future.