Whether you're studying U.S. Geography in your homeschool, looking for fun ways to teach the states and capitals, or preparing for your next road trip, you'll find over 40 pages of fun, free activities in our newest printable activity book. Head here to get your copy!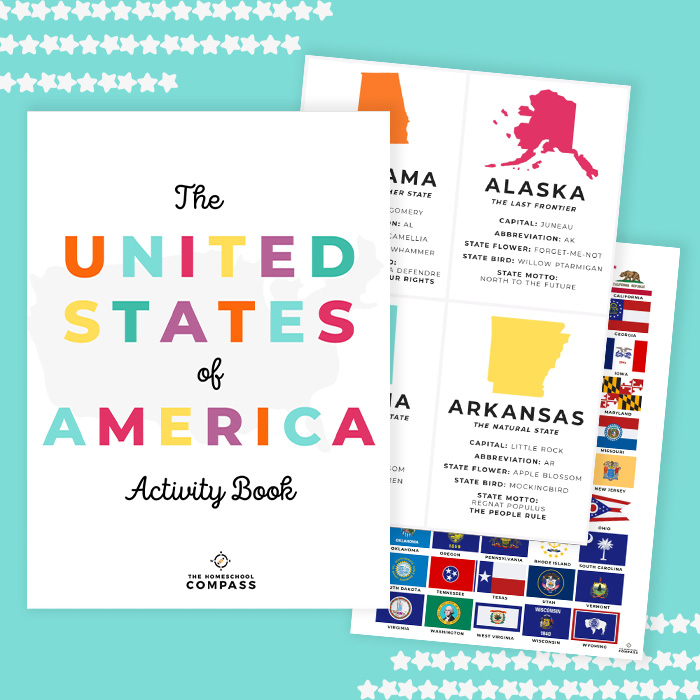 In this United States of America Activity Book you will find:
A colorful Map of the U.S. for handy reference
50 States Flashcards including the state nickname, capital, abbreviation, state flower, state bird, and state motto
Name the State Worksheet: Fill in the blank to match each capital with the corresponding state.
States & Capitals Matching Worksheet: Can you match the correct capital for each state? You can practice with this simple exercise.
Alphabetical Order Worksheet: Put the states in ABC order.
State Bucket List: Your kids can use this colorful tracking sheet to record which states they've visited.
State Word Search: See if you can find all 50 States!
Capitals Crossword: Your kids will need their knowledge of states and capitals to solve this crossword puzzle.
50 States Bingo: Print these colorful bingo cards for lots of learning fun. There are so many ways to play. Call out the names of the states for your littlest learners to match, or use facts from the 50 States flashcards to call out capitals, abbreviations or even state mottos and have your children match them with the correct state to get a Bingo.
State Flags Poster: This colorful page featuring the 50 State flags is perfect to put on display in your homeschool!
State Flags Matching Worksheet: On these pages your children can match each flag with the corresponding state.
We always love seeing how you and your family use these printables in your homeschool. If you share a photo on Instagram be sure to tag us @homeschoolcompass or use the hashtag #homeschoolcompass