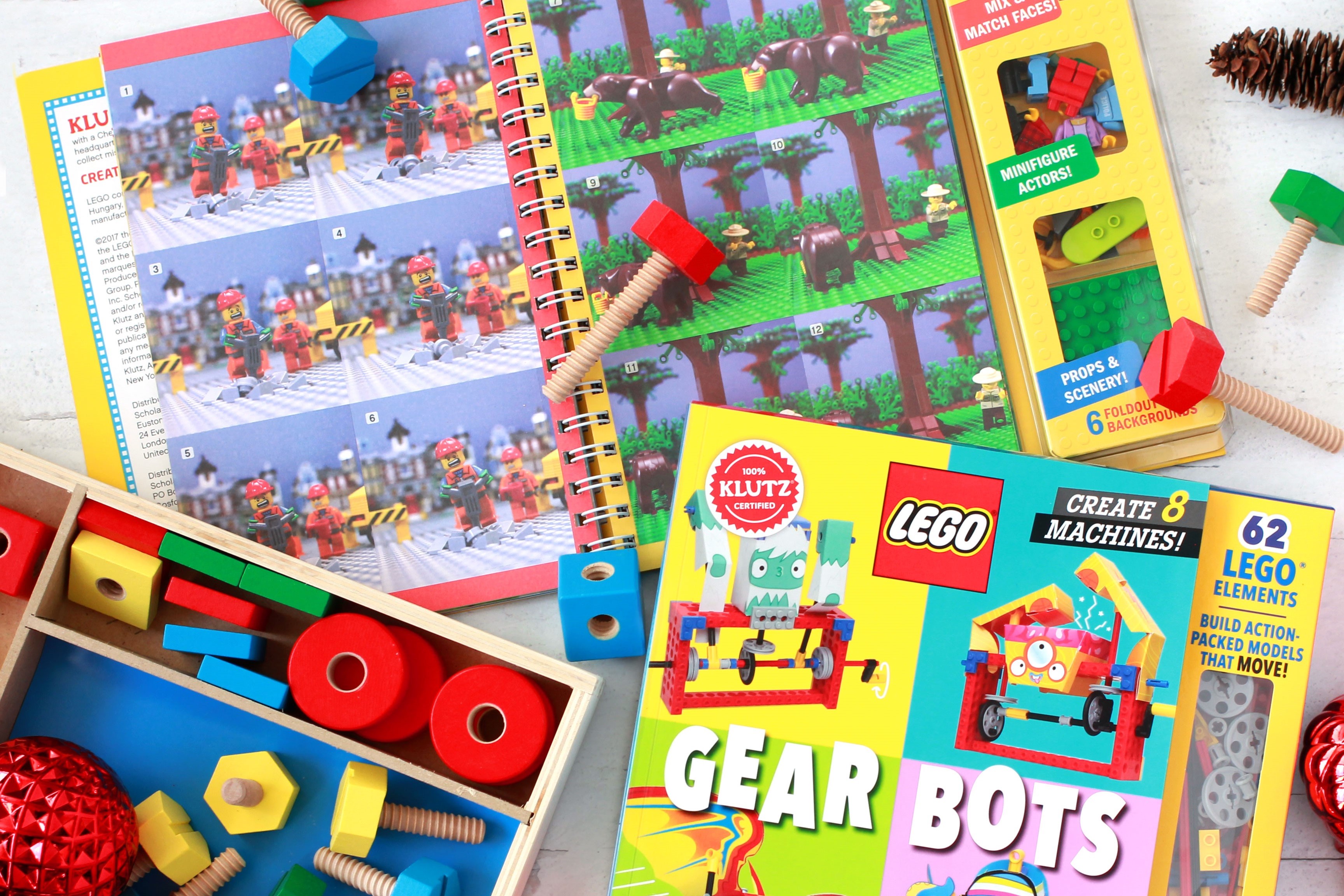 Check out some of our favorite gifts for kids young and old who love to build!
Build up to 8 physics-driven kinetic creatures using LEGO technic bricks and papercraft with this Gear Bots kit from Klutz Press! The accompanying book teaches about axles, cams, cranks, and other kinds of engineering in everyday machines. Your child might also enjoy LEGO Gadgets, LEGO Chain Reactions, and LEGO Make Your Own Movie from Klutz.
Children will love creating their own designs or following the set's colorful activity cards to make pictures and patterns of trains and boats and flowers and fish. Just snap any one of the drill bits into the reversible power drill or the screwdriver handle, grab a handful of big bolts, and let the fun begin.
This simple set of stacking wood planks provides everything kids need to build elaborate ball track structures with planks, chutes, funnels, and crazy contraptions like the Black Hole and Bounce Plate. The opportunities for creativity and experimentation are endless.
Snap Circuits are the perfect gift for an engineering mind! Each kit provides hours worth of hands-on learning and experimenting. Make your own working radio, a digital voice controller, an AC generator, and more!
Perfect for preschool builders, your child will be able to construct a crane, race car, motorcycle, airplane, or whatever creation they dream up with these colorful wooden pieces.
For the LEGO fan who's up for a new challenge, LEGO Architecture sets offer a building experience like no other. Kids and teens can recreate landmarks like the Statue of Liberty, the White House, and the Taj Mahal. Each set contains over 1,000 pieces and comes with a booklet explaining the history and design features of the building.
David Macaulay books offer a detailed look into some of the world's most impressive architectural feats. With magnificent illustrations and first-rate explanations, books like Pyramid, Castle, Cathedral, City, Mill, Underground, and Unbuilding provide a great jumping off point for kids to dive deep into the world of architecture and design.
These 60 smooth-sanded, sturdy wooden blocks from Melissa and Doug are perfect for building and imaginative play. This kit includes a great variety of sizes and shapes including arches, columns, squares, rectangles, triangles, and cylinders.