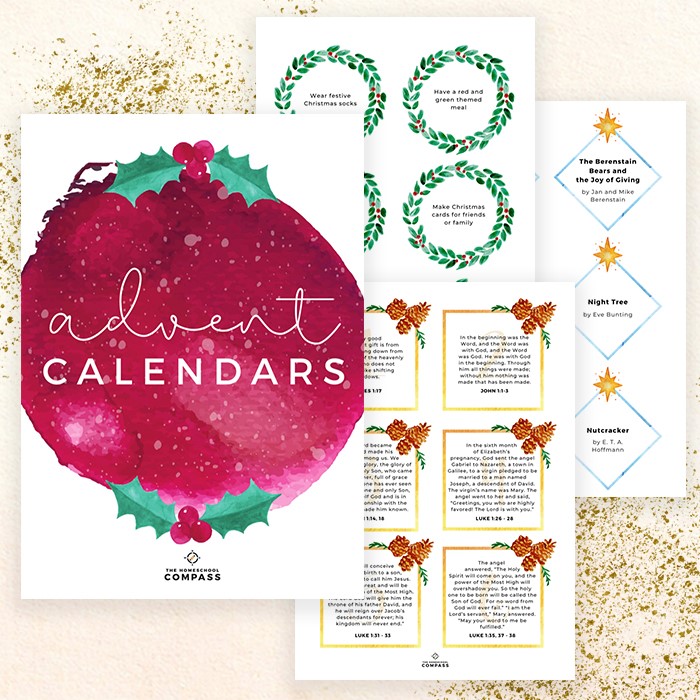 A Christmas countdown is a great way to bring some intentional memory making to your holiday season without a lot of stress or prep work. Kids love the visual countdown to Christmas and the surprise of checking to see what each day contains.
If you're looking for a fun way to create your own Advent countdown or for something to stash in your existing Advent calendar besides just candy, check out these free printable cards. We've got three different sets for you to chose from!
Activity Cards
Print the wreath cards for 25 simple yet memorable activities like dancing around the house to your favorite Christmas music making homemade play dough that's red and green. Choose the cards that fit your family. We've also included blank cards so you can include your own activity ideas or favorite traditions.
Scripture Cards
Print the pinecone cards for a different Scripture to read as you countdown to Christmas. If you do all 25 days, you'll get the full Christmas story and several Old Testament prophecies of the incarnation.
Christmas Picture Book Countdown
Print the star of Bethlehem cards for a Christmas picture book countdown. We've included some of our favorites (you can read our full list of favorite Christmas titles here), but you'll also find blank cards so you can substitute in the books you have on hand or ones you're able to get from your local library.
Creative Ways to Count Down to Christmas
There are lots of ways to use the cards even if you don't have an Advent calendar. Here are some of our favorite ways to create an inexpensive Christmas countdown.
String up a ribbon or piece of twine on the wall and clip up a card for each day till Christmas. Write a number on the back of each card with the numbers 1 through 25 for December 1st through December 25th (or if you're starting after December 1st, count how many days are left till Christmas and write numbers counting down with #1 representing Christmas Day). Everyday turn over one card and do the activity or reading.
Fill a paper sandwich bag with a card for each day between now and Christmas. Write a number on the outside of the bag, and open one bag per day as you wait for Christmas.
Collect 25 cute Christmas socks from a second hand shop or the dollar store. String the cards up across your mantel and fill each one with a card.
If you come up with a cute or creative way to use your Christmas countdown cards, we'd love to see it. Share a picture on social media and be sure to tag us @homeschoolcompass or use the hashtag #homeschoolcompass
And Merry Christmas from the Homeschool Compass Team!