Today we are delighted to welcome Danielle Hitchen to the Homeschool Compass blog. Danielle is a homeschooling mom of 3 who makes her home near Washington, D.C. She is the founder of Catechesis Books and author of the Baby Believer series as well as the newly released, Sacred Seasons: A Family Guide to Center Your Year Around Jesus. Check out Episode 32 of The Homeschool Compass Podcast to hear more from Danielle!
Each winter, Christmas' preparatory season – Advent – seems to appear out of nowhere and move along at an alarming speed, December 25 hurtling toward me at a million miles an hour. I feel frantic, behind, scattered, unprepared. My heart and mind and body occupy separate places as I simultaneously try to inhabit the festal spaces imposed upon me by the broader culture and the penitent spaces gently beckoning to me from the Church.
But contrary to how it's generally practiced, Advent is traditionally a penitential season in the Church – a time for reflection and prayer as we prepare our hearts to welcome Christ in three comings:
the first is a commemoration of Christ's coming in historic time as Mary's son
the second is a celebration of his coming into our very own hearts and lives
and the third is an anticipation of his final coming wherein he will make all things new.
If we allow it, Advent provides space for us to "prepare him room," to ready ourselves for these arrivals of Christ. Advent invites us to
remember with gratitude how God keeps his promises
wait with hope for how God will show up in our lives
and prepare with faith for the promised renewal of all things
Remember
One of the breathtakingly beautiful pieces of Advent is that it holds and reflects the entire weight of the Old Testament (thousands of years of God's work for and in and through his people!) in its gentle four-week span. Advent bids us to remember God's goodness and faithfulness throughout those millennia as well as to reflect with gratitude on what God has done in our own lives over the past year.
Take time in this season to remember the ways God has revealed himself to you, the ways he has provided for you, the ways he has gently guided you to your current place. As you recall the good and bad, the hard and easy, the painful and joyful, remember that the Israelites walked through all those seasons as well as they waited for their messiah.
Advent – as a season of remembering and anticipation – allows you to hold all those things in tension: grief with gratitude, abundance with famine, life with loss.
Wait
As you remember, allow your heart to soften that you may await the Lord's coming with quiet hope.
As moms, we are acutely familiar with seasons of life that feel distinctly Advent-ish. We wait to give birth. We wait for our babies to sleep through the night. We wait for first words, first steps, first days of school. We wait, faithfully managing the daily tasks of our lives, patiently (or not-so-patiently) inhabiting the current season, all while watching for the anticipated arrival of the promised next milestone.
Waiting times often feel interminable. But Advent – as a defined season – reminds us that seasons, by definition, are bounded. We know that our waiting is not in vain for we serve a God who keeps his promises. As he arrived in the promised Christ child, so he will show up for you, and so he will arrive one day to make all things new.
Allow Advent to be a time to reflect on where you're looking for God in your life right now and ask him to give you eyes to see how he is present with you.
Prepare
While we wait with expectant hope of Christ's final arrival, we can also actively prepare for his coming with faith. We do not labor for the Lord in vain. Our faithfulness in tending to the tasks God has given us is a vital part of making us ready for eternity in his presence.
The imperceptible growth of waiting seasons can be a source of great exasperation. But as the many stories of the Old Testament reveal to us, God accomplishes quiet work in our hearts, our homes, and our families in waiting seasons. Waiting seasons build muscles of discipline and patience, teaching us to hope, deepening our faith, and developing obedient hearts. These seasons are often necessary to produce rootedness and provide time to be fully ready for the next season.
Just as a woman knows she won't be pregnant forever – no matter how it feels – so we know with surety that Christ is coming and we await his return with eagerness.
And so, I invite you to a Holy Advent.
Though cancelling the pre-Christmas Christmas celebration from the broader culture is impossible, we can choose for ourselves and our families to lean into the Church's traditional posture of quiet preparation. Let us be intentional about making space in our hearts and homes as we watch and wait for Christ's arrival.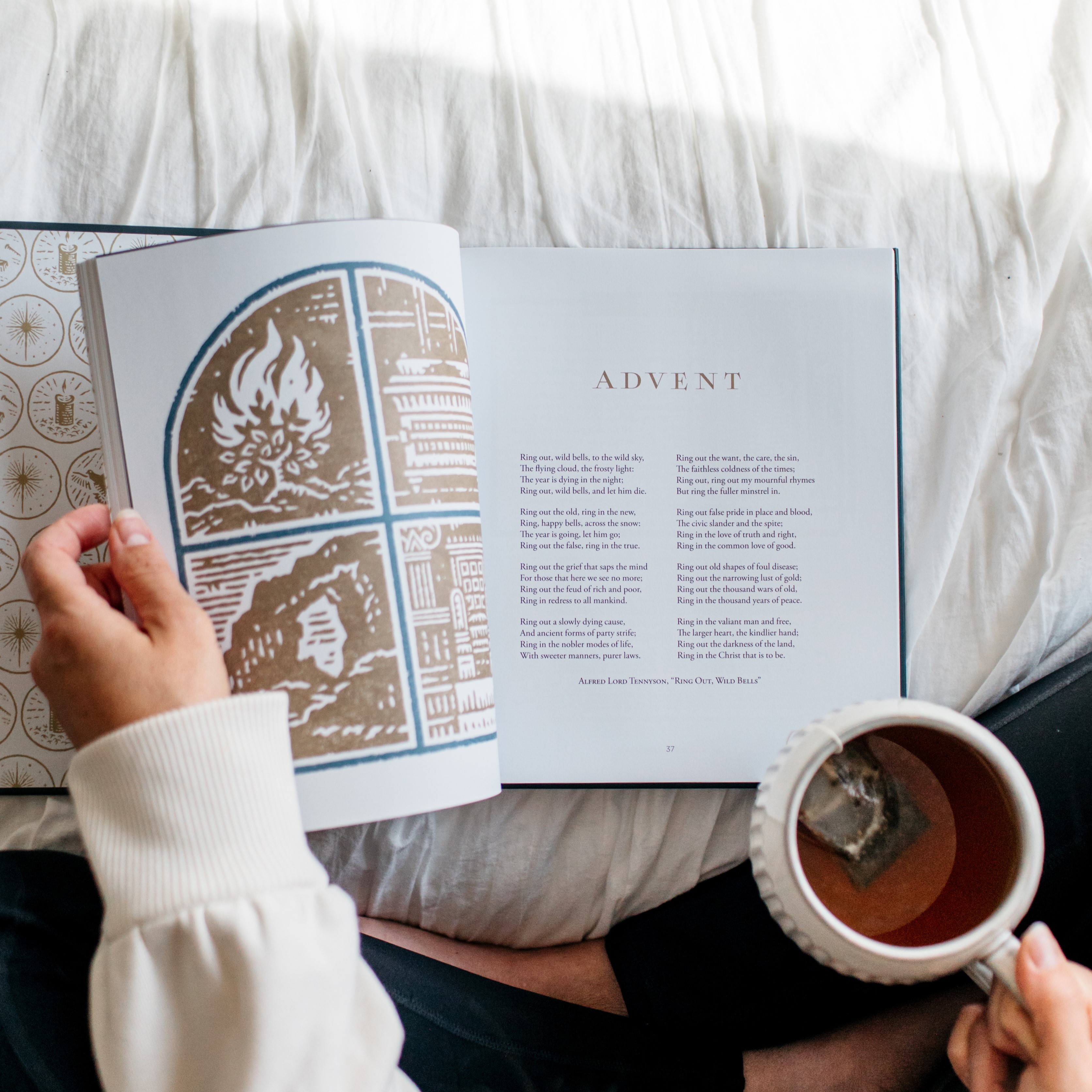 This post contains affiliate links. Thank you for supporting the Homeschool Compass by shopping through our page!