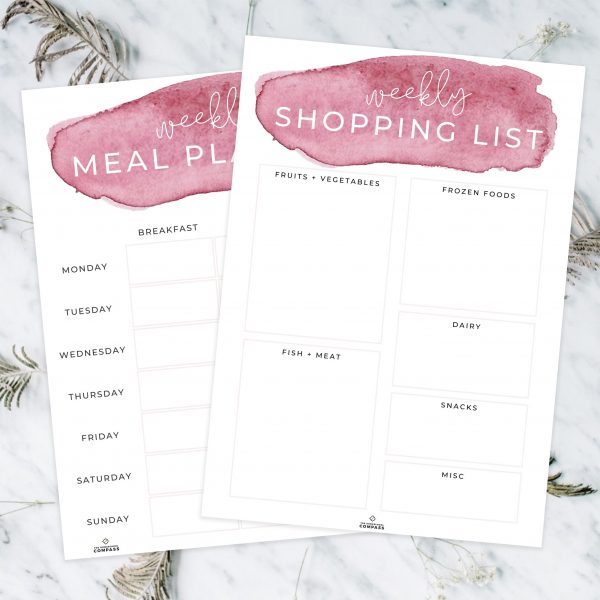 Food is fuel for the brain, right? But when there is a seemingly endless to-do list to contend with, you might find that meal planning just falls to the bottom of the priority list.
But what if we said mealtime doesn't have to be stressful? What if we said there was a way to avoid a last minute dash to the grocery store or drive-thru?
Because, busy homeschooling parent, there is a way to avoid that stress… meal planning!
Having a meal plan will not only take the stress out of dinners, but will also help you to serve up meals that are healthy and nutritious. Just what is needed after a busy day of learning.
Meal planning will also help you to write out that pesky weekly shopping list. Which means no more having to drive all the way to the shops every day for the vital ingredient missing from the night's dinner.
Now, there are a number of ways you can go about meal planning. Some people may find they like to plan for the week ahead, while some would prefer to go a step further and plan for the entire month.
Whatever your style, here are some of our top tips for making the most of meal planning…
1. Maximize Your Shopping
Think about the ingredients you'll be purchasing in your grocery shop and find ways to reduce your wastage. For example, if you are purchasing a container of mushrooms, but only need to use half of it for your signature mushroom risotto, plan for a meal in which you can utilize the remaining mushrooms.
2. Think About Leftovers
When you're writing up your meal plan, make sure you remember you're likely to have leftovers from some meals. Having roast chicken for dinner on Sunday? Plan for chicken sandwiches at lunch on the Monday!
3. Mix It Up…
Look for new recipes each week that you want to try out. This will help keep mealtime exciting for you and your family – and who knows, maybe you'll even find your new favorite dinner! Meal planning will also ensure you don't wind up serving pasta two nights in a row. You know what they say… variety is the spice of life!
4. …But Have Your Staple Meals
Make sure you also factor in those family favorites that you all love to eat week in and week out. Our friend, Kendra Adachi, calls these your "brainless crowd pleasers." If your little ones adore your spaghetti bolognaise, you can drop this in once a week (along with your other staple meals) and then fill in the gaps around these must-have meals! It's a surefire way to make the meal planning task seem a lot less daunting.
5. Create Theme Nights
Taco Tuesday, Friday Fish Night – create some traditions with your family that they'll look forward to each week. By having a theme, it will keep your focus narrow while also helping you to get a little creative. For example, one week you might make fish tacos and another week you'll find yourself diving into some pulled pork tacos! (Can you tell we're in the mood for some tacos?!)
6. Become a Professional Grocery Shopper
Choose one day of the week that is your dedicated shopping day and always have a grocery list prepared! Simple right? Perhaps you'll meal plan on the Saturday and grocery shop on the Sunday – find what works for you and stick to it. Download our free grocery shopping list printable below.
Now, you may still have those evenings where you can't avoid a dash to the nearest takeaway or wind up serving cereal for dinner – that's just homeschooling life for you! But we do hope you'll find these tips reduce those stressful moments.
If you're looking for some more helpful resources, you can download our free printable weekly meal planner and grocery list to simplify your meal planning.