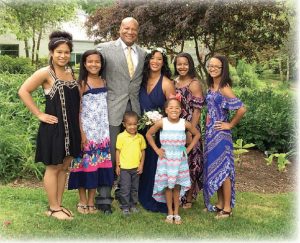 My days normally start pretty early with the alarm blaring to awaken me from my slumber by 6 a.m. I am not a morning person by any stretch of the imagination, but rising before my children gives me a chance to have a few minutes of quiet time with the Lord as well as an opportunity to prioritize the things that need to be accomplished for the day.
We are in a season right now where my husband is working in a different state because these are the needs of the Navy for whom he serves. Since I have yet to figure out how to clone myself, I lean on friends and family who help me more than words can express.
Many years of overseas deployments have prepared us for this season, so we are taking it one day at a time and leaning on God's guidance and wisdom. If there is a silver lining to this current season, it's that my husband is able to come home every few weeks—a much-needed recharge for the whole family. Always seeing the bright spot in our current situation helps the days go by.
Our homeschool, A Stable Beginning Christian Academy, has been in existence since the fall of 2009, following a cross-country move from Washington State to our current place of residence. We currently have five children being homeschooled in eleventh, ninth, fifth, and second grades, plus a preschooler. Our oldest, and first homeschool graduate, is in her junior year at a local Christian university.
Our educational philosophy aligns with the literature-based, classical educational principles found within The Well-Trained Mind by Susan Wise Bauer and Jessie Wise. Yes, we study Logic and Latin! Albeit, Latin is studied at a much slower pace as the years have progressed.
Building meaningful relationships with our children while providing the best liberal arts educational foundation has always been our desire. Homeschooling allows us to stay true to our vision of a challenging plan of study that is tailored to the specific needs of each of our children.
The flexibility in our homeschool schedule has allowed extracurricular pursuits in competitive level gymnastics for two of our daughters, who train up to thirty hours a week, which a typical school schedule would not have accommodated without sacrifice in some area of life.
Most people glance at our life and say, "You sure are busy!" I like to think we are active, and not just "busy." Because to me being busy means you miss out on things that truly matter in your life, the people—your friends and family. Being active, you still have time for the important people in your circle and the activities that fill your day.
As a creature of habit, I like to say that our days have routine—a natural rhythm that fits our family's current needs. Homeschooling allows us flexibility in our studies, and it is not something I take for granted. When my children need a little more sleep because the weeks of activity are catching up to them, I give them grace. In return, they give me grace when they see that I am exhausted from my own daily requirements.
I'll be the first to admit that during the winter months we are overly active. Some months we spend most weekends on the go as we travel to and from gymnastics meets. The spring brings softball for my oldest at home and baseball season for my son. The fall yields cheerleading for another daughter.
Yes, it is tiring at times, especially since I am doing the majority of the chauffeuring. However, I am my children's biggest fan! Seeing them compete and cheering them on makes all the travel and time spent worth it. Traveling and seeing many different parts of the country we otherwise would not see is a bonus. It's always a welcome winter relief when we head to Florida and soak up some nice sunshine for a long weekend.
Schooling my children is my utmost priority. To help make our family run somewhat smoothly in my husband's absence, I prioritize the "three things" that have to get done that day. Besides feeding, clothing, and educating my children, I focus the rest of my energy on these daily "three things." Armed with my planner and multi-colored pens, I plot and make a plan for each day in the wee hours of the morning. Don't get me wrong. I don't always get my "three things" finished by bedtime, but when I do, the sense of accomplishment does wonders for my soul.
We did not start out as a homeschooling family, but I would not change this lifestyle for anything in the world now that we have experienced everything it has offered us.
Copyright 2018, The Old Schoolhouse®. Used with permission. All rights reserved by the Author. Originally appeared in the Summer 2018 issue of The Old Schoolhouse® Magazine, the trade publication for homeschool moms.