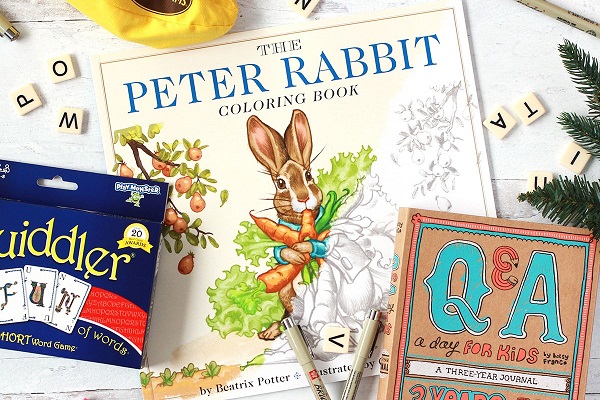 If you have a child who loves reading, writing, and playing around with words, we've got some great gift ideas for you!
This fun word game is a mix of Scrabble and Boggle great for ages 7 and up. With letter tiles that tuck into a zippered banana shaped pouch, this game is easy to take on the road with you and perfect for sliding into a Christmas stocking.
Make a time capsule with your child! The two of you can begin at any point in the year. Simply turn to today's date in this collaborative journal and ask the question at the top of the page. You can either jot down the response or let your child fill in the answer. As you revisit the same questions year after year, your child will be amazed at how they've grown.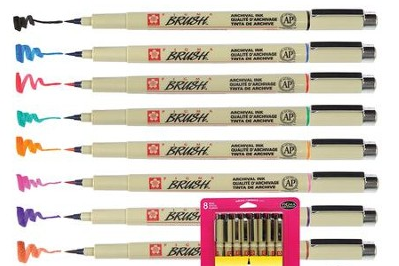 These fancy brush-tipped pens allow for fine lines and thick brush strokes in 8 vivid colors. Great for journaling, sketching, and doodling.
This fast-paced card game is all about building short words, so even young readers can play and win. Fun for up to 8 players, this is a great option for family game night, gameschooling, or travel.
Pairing the classic text of Peter Rabbit with exquisite black and white illustrations by renowned artist and illustrator Charles Santore, this coloring book is a delight. Your children will love creating their own Beatrix Potter masterpiece!
A flexible book light that clips onto the page is a must-have for your young bookworm. This would make another great stocking stuffer!
With 36 prompts total for both fiction and nonfiction topics, these cubes are a fun way to spark creativity and imagination in your young writer. Great as a stocking stuffer!
A set of classics from a favorite author or a boxed set of a beloved series can make an excellent gift for your young bookworm. We love the exquisite Puffin in Bloom collection featuring Little Women, Anne of Green Gables, Heidi, and A Little Princess, a boxed set of The Chronicles of Narnia by C. S. Lewis, or the Little House on the Prairie series by Laura Ingalls Wilder.