This week we will be showcasing some of the members of the Homeschool Compass Team as they share what curriculum they are choosing for their own children in the upcoming school year. Today we hear from Alene who has a homeschooled 7th grader, a 10th grader in traditional school, and a college sophomore.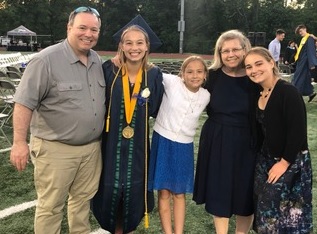 Alene describes her homeschooling style as "eclectic a la carte" because she chooses her curricula for different subjects based on her children's learning style and interests and then adapts them for each child's needs. Here's what Alene will be using this year:
Math:
For Math we'll be using Saxon 7/6. We've used Saxon in the past for my older daughters, and it prepared them for Honors high school math classes. . . . plus my kids like knowing that the author of their math book was an Air Force fighter pilot!
Reading/Literature:
I choose titles for our literature studies from our history curriculum (see below) and from my own personal collection of books. We also build reading comprehension skills using discussion and narration, as well as Progeny Press book studies. Bethlehem Books has tons of classic historical fiction.
Spelling:
This year we will be using All About Spelling and Megawords. All About Spelling has well-scripted spelling lessons and magnetic letter tiles, which are great for kinesthetic learners. They even have a Tile app for tablets for those kids who like devices. This is our first year giving Megawords a try! Megawords teaches kids syllable rules and how to break words into syllable chunks for spelling and reading. This is very helpful for readers who "guess" when they read, instead of fully decoding.
Grammar:
We have used Rod & Staff for Grammar for several years. This year we'll be using Level 6.
Vocabulary:
For this year we'll be using Worldly Wise. Wordly Wise is an affordable traditional vocab program with a decent variety of review activities from week to week, including reading comprehension. Starting with upper elementary, students can do this program independently with mom/teacher checking their work and helping them correct any errors.
Writing:
This year we will focus on composition using Structure and Style for Students from the Institute for Excellence in Writing (IEW). I haven't used IEW before this year, but it has an excellent reputation, and Andrew Pudewa is a very engaging teacher. It also has video lessons which will work well for my daughter. It teaches a strict formula and process for beginning writers. Once students are proficient and comfortable with their skill level, they can then become more creative.
History:
I'll be using a Veritas Press Self Paced History course for the second year in a row. My student is a high energy visual learner who doesn't like to read, so a history video-lesson program is perfect for her! This year I chose the course on the Middle Ages, Renaissance, and Reformation. Because I still want her to have reading assignments (to develop her reading skills for high school), I use the Mystery of History and Story of the World readers to supplement the video content. Mystery of History and Story of the World both have lessons that are written in a personable narrative style that kids enjoy — not text-booky at all! They are perfect supplemental reading.
In addition, I'm adding a History Archive Project activity. Each week my student completes a 2-page spread in an oversized sketchbook, based on the history topic of the week. The 2-page spread consists of short narrations, pictures, timeline, and maps that she draws, kind of like making her own Usborne Book. Last year I gave her a lot of help with this project; this year, she will do more of it on her own. The following year, she will do it completely independently.
Science:
For Science I chose Apologia's Exploring Creation with General Science course with the downloadable Interactive Lapbook Journal PDF. Apologia is the reliable workhorse of homeschool science programs. We've used Apologia for years, most often in co-op settings. My kids like the Student Journals because they allow for creativity and review without the stress of a test. The PDF Lapbook Download will give my daughter typing practice too, since it's interactive. She can type her answers and narration into the different fields, and then we print the page and assemble the lapbook.
Extracurriculars: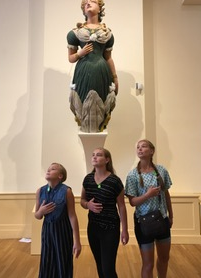 My daughters have always played in town/school soccer and other local sports programs, which has opened up lots of opportunities in high school and college. Last year my middle daughter participated in the high school theater program. Our local school district is very homeschooler-friendly, which I really appreciate.
In the past all my kids have had the opportunity to volunteer serving at the Senior Citizen Luncheon put on by our local church. That might not happen this year due to the current health restrictions in place, but it has been one of my kids' favorite things to do every year.
Of course, we supplement using resources from our local libraries. It's always a good idea to get on the good side of your local librarians. Sometimes they'll give you your own shelf for your reserved books! Inter-library loan is a wonderful resource to borrow the books I need for history, science, and reading.
For more curriculum picks, check out:

Aimee's Homeschool Curriculum Picks for 2nd and 4th Grade