We strongly believe you're never too old for a good picture book! In this booklist you'll find stories of courage and perseverance from some of the world's most inspiring women.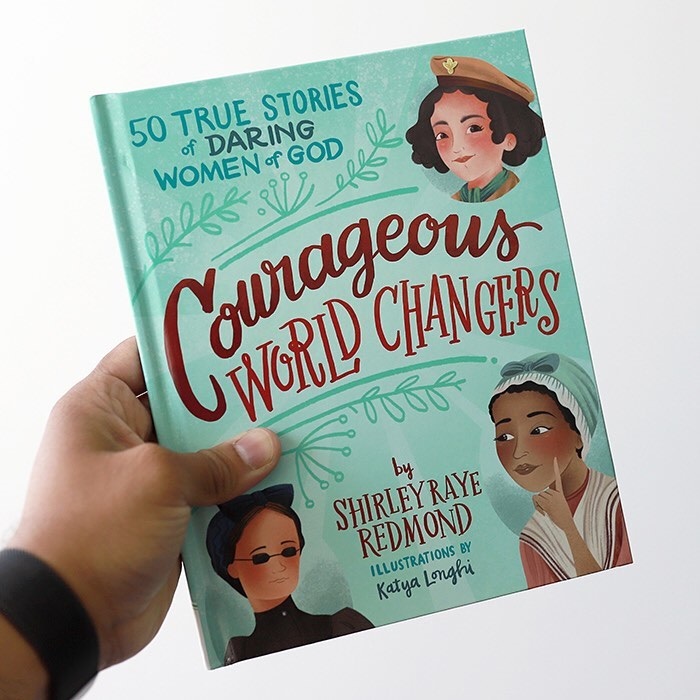 This is illustrated reference book is an excellent one to add to your collection. Chronicling inspiring women like Corrie ten Boom, Harriet Tubman, Florence Nightingale, Rosa Parks, Mother Teresa and more, this book covers women from all different backgrounds, ethnicities, and time periods. What unites them all is their willingness to respond to God's call on their life with faithfulness and perseverance.
With exquisite illustrations modeled after medieval manuscripts, Diane Stanley does a masterful job of presenting the story of Joan of Arc in a child-friendly and accessible way. Your children will be captivated by the courage and vision of a young teenage girl who led France to freedom from English rule and became a national symbol of bravery and determination.
When Temple was diagnosed with autism as a young girl, no one expected her to speak, let alone become a professor of animal sciences and an internationally known advocate for the humane treatment of livestock. This inspiring picture book shows how Temple's unusual way of seeing the world turned out to be one of her greatest strengths.
This book follows four mathematicians, who overcame gender and racial barriers to work for NASA.
Dorothy Vaughan, Mary Jackson, Katherine Johnson, and Christine Darden contributed to some of NASA's finest moments, providing the calculations that allowed America's first space travels. These women changed the world with their genius and their persistence.
At 7 years old, Raye's grandfather took her to tour an old World War II submarine. Fascinated, Raye set her sights on becoming an engineer. She was denied entrance to her college's engineering program because she was black, but Raye didn't give up on her dream. Instead, she got a degree business and worked for the Navy, learning computer programming and engineering in her free time. Eventually, after years of watching and waiting, the gifted mathematician got the opportunity to use the Navy's computers and figured out how to produce computer-generated ship designs, a complex problem no one else had been able to solve. We can all have so much to learn from Raye's pioneering spirit and her perseverance in the face of tremendous opposition.
Your family will be able to journey with Harriet Tubman as she travels the Underground Railroad on her first trip to freedom in this inspiring picture-book. You'll hear not only about the physical challenges Tubman had to overcome, but also her spiritual struggles as she looked to God for comfort and provision on her harrowing escapes.
From the first time she visited the aquarium, Eugenie Clark fell in love with the graceful sharks, but she soon discovered most people found sharks terrifying and ugly. They also didn't think women belonged in the sciences. She set out to prove them wrong on both counts, devoting her life to the study of sharks. After years of research and numerous discoveries, Eugenie demonstrated that sharks need not be feared, but rather are creatures to be admired and respected.
Growing up in the segregated South, young Coretta Scott felt a yearning for equality. This book's lyrical text and captivating illustrations capture Scott's important place in the Civil Rights Movement as marched alongside her husband, Reverend Martin Luther King, Jr., using nonviolent resistance to secure freedom from segregation.
This book's visual storytelling is a wonderful way to learn about the world's foremost expert on chimpanzees. Jane's childhood passion for animals lead her all the way to Africa where she overcame the skepticism of the broader scientific community through careful observation and hours spent in the field among the chimps. Her willingness to endure the hardships of life in the wild, often sitting motionless among the chimps for hours at a time, allowed her to get to know these beloved creatures in a way that no one had up to that point. Jane's observations laid the groundwork for numerous scientific breakthroughs and a lifetime of environmental advocacy.
Mama Miti by Donna Jo Napoli
Stunning oil painted illustrations and artful storytelling combine to depict the life of Wangari Muta Maathai, known as Mama Miti. In 1977 she founded the Green Belt Movement, an African grassroots organization responsible for the planting of 30 million trees and the protection of countless acres of land from deforestation, soil erosion, and climate degradation. Mama Miti's heroic efforts, transforming Kenya one tree at a time, earned her the Nobel Peace Prize and show us that our efforts can achieve a better future when we work together and don't give up.
Do you have a favorite book that we've missed? What would you add to this list? Let us know in the comments below.