Whether you're looking for a book to show your children the true meaning of Easter or you want a silly story to tuck in their Easter baskets, we've got you covered. Here are some titles your kids are sure to love!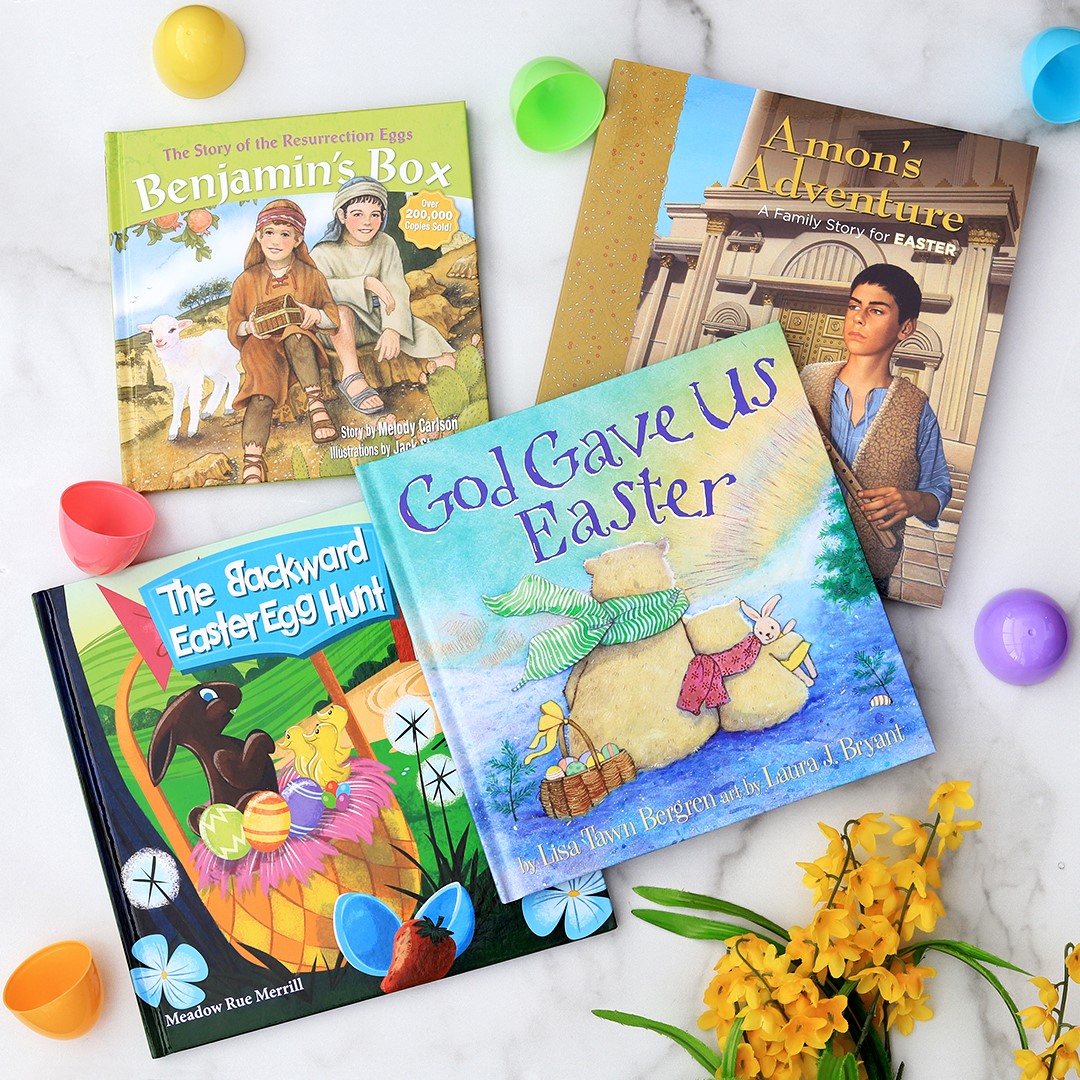 In this heart-warming book, a curious little polar bear has lots of questions about Easter. Her tender Papa Bear patiently answers each one and teaches her all about the significance of Jesus' death and resurrection.
This book takes children on a journey from the garden of Eden to God's prefect new creation. Children will discover that 'because of our sin, we can't go in' but because of Jesus' victory on the cross, an even better garden awaits us
If you're looking for a book that captures the miracle of the first Easter morning, this is the one for you. With a memorable rhyming text and magnificent purple and gold illustrations, the story builds toward the climactic moment when the stone is rolled away.
Every year six-year-old Molly looks forward to the annual Easter egg hunt at Lantern Hill Farm, but this year something is different. Instead of eggs hunting for eggs filled with treats, the children are given empty eggs and sent on a scavenger hunt around the farm to fill their eggs with items that remind them of Jesus' death and resurrection.
When Jesus comes to Jerusalem, young Benjamin decides to follow him and find out who this man really is. Along the way Benjamin discovers the Good News about the Christ. With warm illustrations and endearing characters, there is a reason this book has sold over 200,000 copies. Perfect for reading along with your Resurrection Eggs!
I have fond memories of reading this 1939 classic over and over again as a child. Maybe you do too? It tells the story of mother bunny Cottontail who has all but abandoned her dream of becoming an Easter Bunny as she cares for her 21 children. But when Grandfather Bunny spies her perfectly behaved brood, he's so impressed that he makes Cottontail the most important Easter Bunny of all! Whether or not you incorporate the Easter bunny in your Easter festivities, you might still enjoy this book that celebrates humility, hard work, and patient ambition.
This traditional folktale tells the story of Easter from the point of view of three trees on a mountain dreaming of how they might one day be used. Your children's hearts will be touched as they understand in a deeper way the significance of Christ's death on the cross.
Rechenka's Eggs by Patricia Polacco (ages 6 to 12)
Every year Babushka makes beautiful hand-painted eggs for the annual Easter Festival, but this year she takes in a wounded goose who accidentally breaks all her eggs. But the next morning Babushka discovers the goose has a miraculous gift.
This adorable book tells the story of Palm Sunday from the point of view of Davey, a young donkey tasked with carrying King Jesus into Jerusalem. Packing deep theology into a simple story, you and your children will be awed in fresh ways by Christ's humility and obedience in laying down his life as a servant.
When his father is accused of a terrible crime, thirteen-year-old Amon rushes to help. As he tries to help his father, Amon finds himself swept up in the crowds on Palm Sunday, witnessing Judas's betrayal, and standing by as Jesus is crucified. With Lenten reflection questions at the end of each chapter, this book can easily be adapted to family devotions.
Here are a few more picture books you might enjoy as you think about Easter:
Head here to check out more great Easter books for kids!