These read-alouds will have you and your kids wanting to cozy up and read just one more chapter.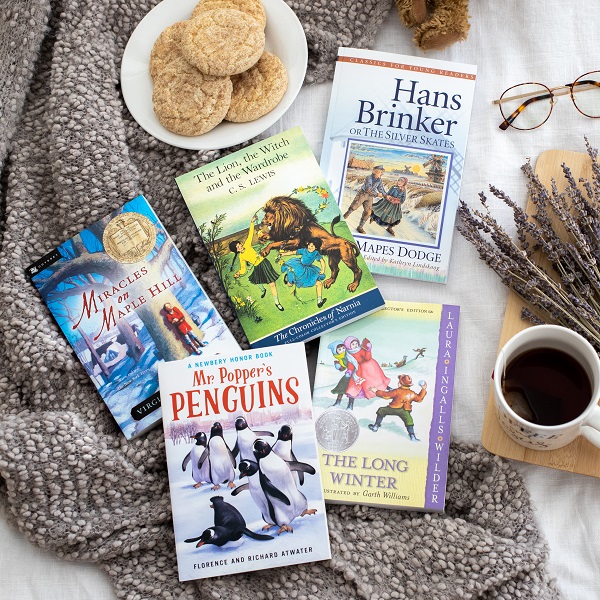 One of my favorites of the Little House series! In this book the Ingalls family must bravely endure the hard winter of 1880-81 in their little house in the Dakota Territory. When blizzards cover the little town with snow, cutting off all supplies from the outside, Almanzo Wilder and a friend must make the dangerous trip across the prairie to find some wheat.
What begins as a simple game of hide-and-seek quickly turns into the adventure of a lifetime when Peter, Susan, Edmund, and Lucy walk through the wardrobe and into the land of Narnia. There they find a cold, snow-covered land frozen into eternal winter by the evil White Witch. All who challenge her rule are turned to stone. The children can only hope that Aslan, the Great Lion, will return to Narnia and restore beauty and peace to the land. But will the power of Aslan be enough to conquer the dark magic of the White Witch?
I adored this book when I read it as a 5th grader. I'm happy to report that I recently read it aloud to my own 9 and 11 year olds, and it's just as wonderful as I remembered. It follows the story of Rudi, a young Swiss boy whose father lost his life attempting to climb the Citadel, the summit of the Alps. Now Rudi longs to conquer the mountain that took his father's life, but his mother and uncle are determined to keep him from ever going anywhere near it. This inspiring story of determination and sacrifice kept our whole family spellbound.
Mary Emma Moody, widowed mother of six, who has taken her family east in 1912 to begin a new life. In this installment of the Little Britches series, Mary Emma's son, Ralph, then thirteen, recalls how the Moodys survived that first bleak winter in a Massachusetts town. The family's run-ins with authority and with broken furnaces in winter paint a picture of a full and warm family life in the face of inevitable challenges.
A beautiful book to weave in if you're learning about maple syrup, it follows the story of Marly and her family as they move to the country so her father can recover from his time spent as a prisoner of war. Their new neighbors, Mr. and Mrs. Chris, are eager to impart their knowledge of country life. When Mr. Chris suffers a heart attack during maple sugaring season, Marly and her family help to repay the kindness shown them by pitching in to keep the fires going and bring in that year's harvest of maple syrup.
Set in long-ago Holland, the land of windmills, tulips, and wooden shoes, Hans and his sister Gretel experience championship skating, hunger and family hardship, and countless adventures. Through trials and moments of great joy, Hans and Gretel show how faith in Christ and loving sacrifice can heal families more than any amount of riches.
While not set in winter time, this book chronicles the chaos that ensues when 12 feathered friends from the Antarctic arrive on Mr. Popper's doorstep. The struggling house painter can barely support himself, let alone his wife, two children, and now a dozen penguins, but then inspiration strikes. Mr. Popper will take the penguins on the road as a stage act! If you've seen the movie, the plot of the book is completely different and full of good, clean humor.
"There are no bears on Hemlock Mountain, no bears, no bears at all!" says Jonathan's uncle James. And his mother, who sends him over Hemlock Mountain to fetch a large pot from his aunt. And Jonathan himself, as he walks over the mountain, hearing his voice to reassure himself that there are no bears. But after dawdling at his aunt's house, he crosses back over the mountain in the dark and hears a tell-tale crunch crunch in the snow, and the sniff sniff of a large animal. This Newbery Honor Book from 1952 is perfect for young ones who are making the transition from picture books to longer chapter books.
In the bleak winter of 1940, Nazi troops parachute into Peter Lundstrom's tiny Norwegian village and hold it captive. Nobody thinks the Nazis can be defeated—until Uncle Victor conceives of a brilliant plan to fool the enemy using the children of the town and their sleds. This classic story of how a group of children outwitted the Nazis and smuggled the country's treasure to America has captivated generations of readers.
Winterbound by Margerie Williams Bianco
Kay, Garry, Caroline, and Martin find themselves alone when their father goes on a business trip and their mother goes to assist a faraway relative. The four city kids must rely on themselves and each other in an unheated New England farmhouse as they struggle to deal with and solve day-to-day challenges that come with a chilly country winner.