This post contains affiliate links. Thank you for supporting the Homeschool Compass by shopping through our page!
On the Fourth of July each year Americans gather to have parades, cookouts, and watch fireworks to celebrate America's freedom and independence. Celebrate July 4th this year by creating this fun American flag craft and bookmark!
American Flag Craft
Materials:
Red, Green, Black and Blue colored cardstock or construction paper
Paint
Q-tips
Plate or palette
White paper
Pencil
Pen or thin marker
Colored Pencils
Scissors
Glue stick
Hole punch
Ribbon
Step One:
Put small amounts of paint on a plate or palette. On your black piece of paper paint lots of dots using Q-tips to look like sparkly fireworks! I like to mix white with my colors to make them pop off the black page even more! Create about 5 big fireworks to fill your sky. Set aside to dry.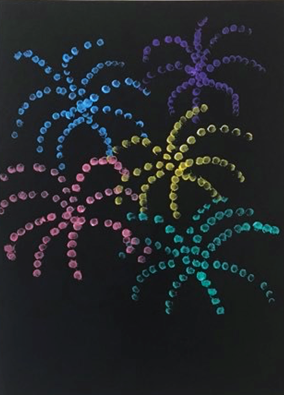 Step Two:
On a regular piece of white paper, draw the American flag on a pole. You can have it waving like this one, or straight. Remember that the flag has 50 stars on a blue square background, and 13 red and white stripes (the first and last stripe are always red). I like to draw with pencil first and then outline my drawing with a black pen or thin black marker. Try drawing the flag yourself, but if it is too tricky, you can print out this template instead. Color in the flag using colored pencils.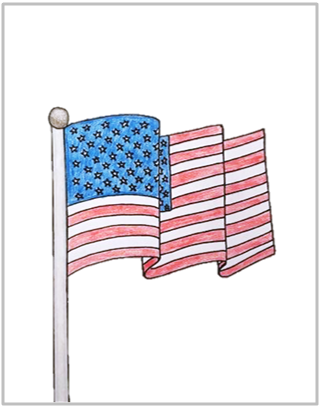 Step Three:
Tear a green piece of paper to look like a hill and glue it at the bottom of your black paper. Cut out your American flag and glue it on top! Now you are ready to celebrate the 4th of July!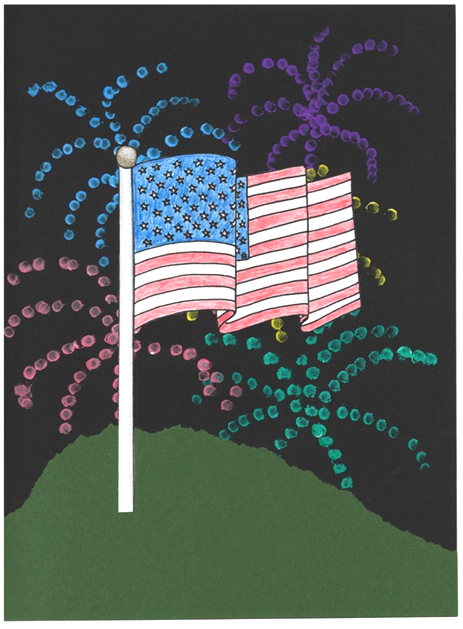 Bookmark
Create a 4th of July bookmark! Print out this bookmark template and color in the American flag. Cut out both rectangles. Cut out a blue and red piece of paper to 8.5 x 3.25 inches. Glue the red and blue pieces of paper together and then glue the flag on one side and the July 4th facts on the other. Punch a hole in the top and tie some ribbon in the hole to create a tassel. Sit outside and read a book this summer with your new bookmark!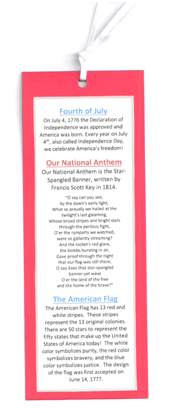 Looking for a read aloud to learn about the Fourth of July in your homeschool?
Here are some of our favorites:
Picture Books
Chapter Books
We hope you and your family have a very Happy Independence Day! If you make a Fourth of July craft, we'd love for you to share it with us. Tag us on social media at @homeschoolcompass or use the hashtag #homeschoolcompass. We can't wait to see what you create!